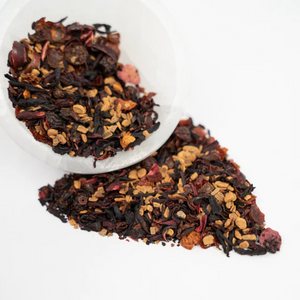 This delicious tea will send you straight into the fall holidays, reminiscent of warm, mulled holiday drinks. Our Cranberry Cider tea starts with a blend of sweet-tart Hibiscus Flowers, edible Rose Hips, and earthen Chicory Root. To bring the warm fall flavor loved by many, we add chunks of sweet‐tart Cranberries, a palm full of Cinnamon Chips for warming spice and finish it all off with a drizzle of our All Natural Flavors.
Ingredients: Hibiscus Flowers, Rose Hips, Cinnamon Chips, Chicory Root, All Natural Flavor, Freeze-Dried Cranberry Pieces.

2 ounce of loose leaf tea in a resealable pouch. Blended and packaged in the USA.

Cozy holiday/winter blend
I love this blend! It's delicious and it smells exactly like the cider my mom makes. It's a little tart from the hibiscus/cranberry (I prefer to sweeten it just a little) and has the perfect balance of cinnamon. Such a comforting, warming tea for chilly evenings!