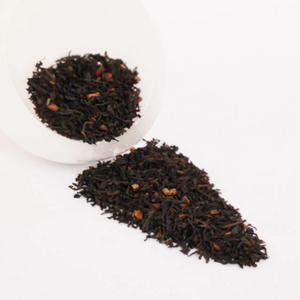 Channel the delicious southern favorite with this yummy blend. It's made of strong Indian Black Tea base mixed with spicy Cinnamon Chips and the warm, satisfying flavors of Toasted Pecans and creamy Caramel. This blend is delicious with a little cream. 
Ingredients: South Indian Black Tea, Cinnamon Chips, All Natural Flavor.  (This blend is nut-free)
Each 1-ounce pouch is blended and packaged in the United States. 
Perfect Holiday Blend
This is my new favorite tea! It's a perfect "warm" flavor for fall and winter. It tastes like cinnamon glazed pecans and black tea! I like it black, black with honey, or with sugar & cream.
Tasty!
This tea was surprising in how delicious it was. I wanted something cozy for fall, and this is cozy. It has the perfect blend of flavors. I put whipped cream on top with a little maple syrup and it was *chefs kiss*